Build as Usual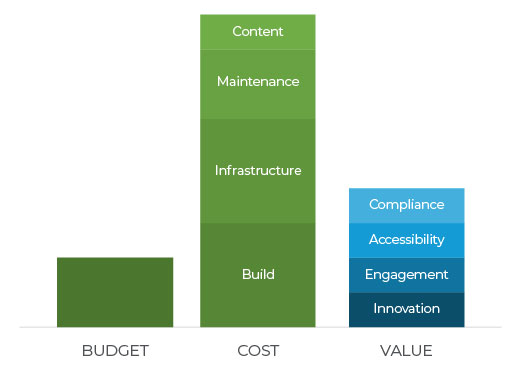 The Cost Barrier
Given the compelling benefits of digital knowledge, what impedes successful digital transformation? Cost. The exponential cost barrier to the digital domain sinks best intentions and efforts. Consider a rudimentary breakdown of cost relative to budget and value. Setting aside the considerable cost to build from scratch, let us focus on infrastructure.
Infrastructure comprises the set of services that deliver your digital content. At a minimum the infrastructure must be secure, scalable, performant, maintainable, manageable, cost-effective, and readily accessible anywhere/anytime. To be useful to your audience, the infrastructure must also provide: comprehensive search, multi-device access, transcripts, translations, and a seamless experience.
Next, the infrastructure maintenance must: assure 24/7 365 day up-time; evolve with best security practices and regulations; and evolve with new features and capabilities.
All components must work together seamlessly and be delivered within a practical timeframe. Finally, you must create the content so the benefits can be realized. Cost and time, however, overwhelm budget and value.
Build Better, Build Smarter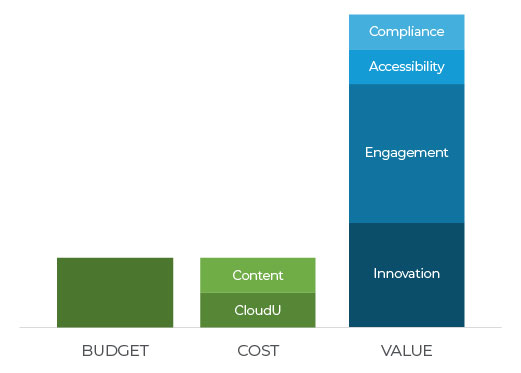 The Case for CloudU
Fortunately, there is a better way: CloudU. CloudU is a digital knowledge platform that insulates you from the debilitating costs of digital transformation.
All in one platform, CloudU efficiently and seamlessly covers: authentication, security, 100% availability, device independence, search, transcription, translation, infinite scalability, performance, zero maintenance, total data autonomy, and ease of use.
The result is the fiscally responsible realization of your digital transformation vision. Now your budget covers the CloudU costs and your costs to create content for your own, customizable University. The result: a sophisticated presentation of digital content that rivals the best solutions at a fraction of the cost.